Exciting places
The beach
We needed 15 years to finally get a beach routine that reliably works. Our first attempt when Margot was 3 was pretty underwhelming (see right)... a couple handfuls of Rehoboth sand and Margot was ready to leave, back to our overpriced accommodations. We have tried almost every year since then and, until last year, it seemed to barely improve. Did Margot need our tweaks to the routine, or did she just need to become familiar with the beach, or did she just need to mature a bit... who knows?
But since 2018, Margot has come to LOVE the beach! Playing in the sand between dips in the water, or venturing further into the ocean until the knee-high waves threaten to topple her. For 60 or even 90 minutes, in the morning and again in the afternoon, Margot is happy to play, or to just chill in the warmth of the sun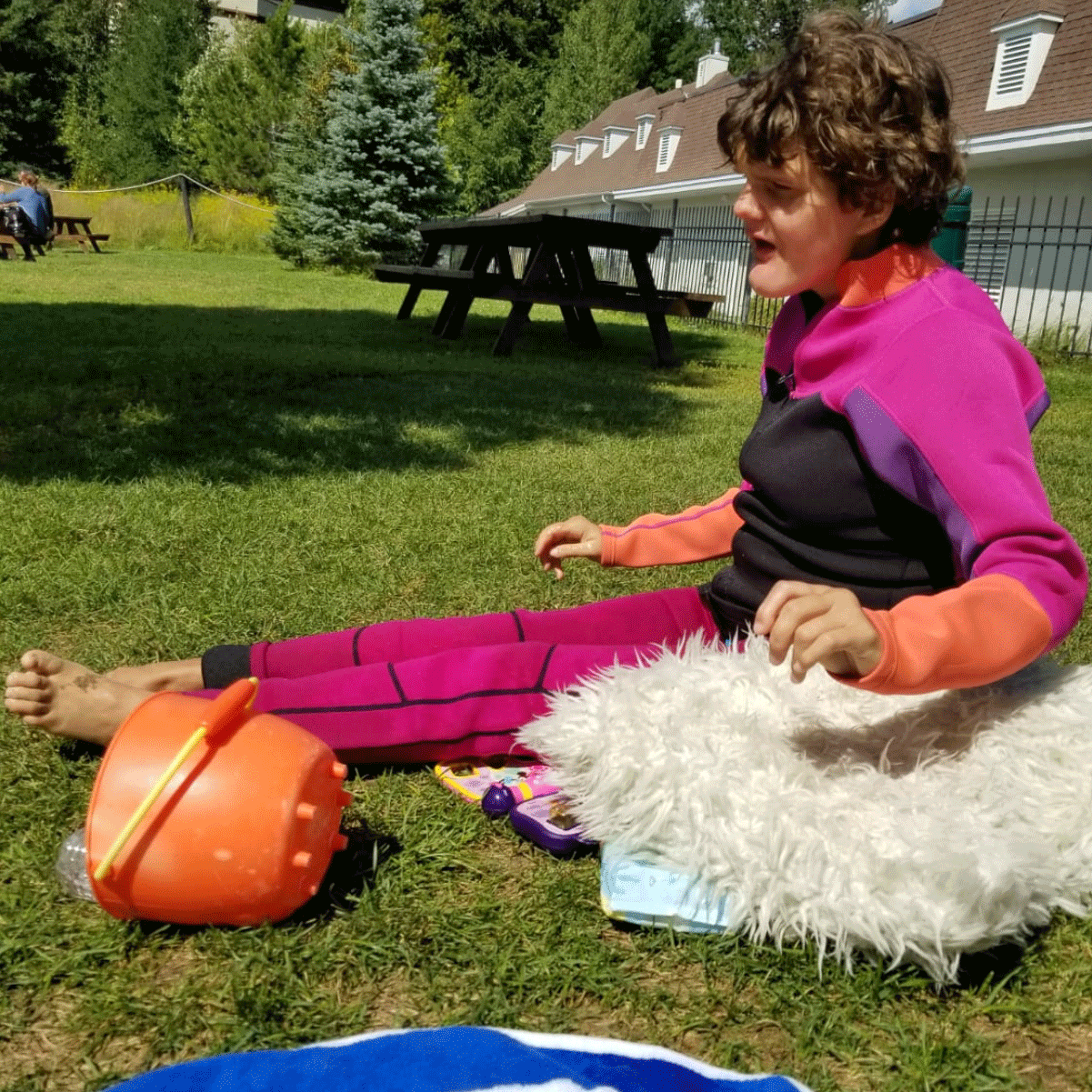 Some accommodations are absolutely essential. For example, we are very careful about the heat, and beat a retreat when the mercury nudges up above the mid-80s. This also means that we can find ourselves on a beach that others would find chilly. Our solution has been to bring along a neoprene (scuba) top and bottom (see photo left). No, I am not planning on trying scuba diving ; it remains just beyond our reach... for now. The neoprene has helped elsewhere, like springtime kayaking, and October dips in our pool.
Along with the heat, we avoid the burn and glare of the sun. So that means that we only venture out before 10 and after 5 (which also helps with the craziest of crowds), and always with a beach tent, beach mat, and a low beach chair Margot can easily get in and out of. And of course, Margot gets lots of sunscreen and a long-sleeved sunshirt.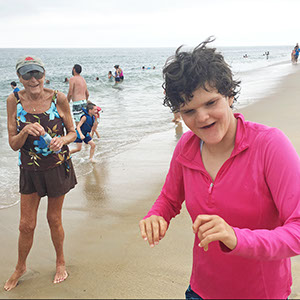 The great thing about beaches is that they are everywhere, and that they are similar enough that every beach Margot visited this summer seemed kind of familiar to her. Whether is was a beach on the Long Island or Delaware seashore, a beach on the St Lawrence River in Thousand Islands Park, or a beach on a lake in the Poconos, the Adirondacks, or the Laurentians, Margot became excited as soon as she spotted the sand and the water. And as we begin to haul out her beach chair and beach mat, she knew just what to expect. Beaches are also common enough that we could use them in other ways, like breaking up a long drive, or to adding some spice to a campground.
The Waterpark
We discovered waterparks many years ago, as described in a previous blog with an accompanying GoPro video. And we have used them as both summer and winter destinations ever since. In 2018 and 2019 alone, Margot has visited 7 different waterparks! Waterparks are one of the few activities that can work on the hottest days (my car registered 104 degrees in the parking lot of Jungle Jim's in Rehoboth in 2019). The crowds that used to bother her now just provide more opportunities to show off her social skills.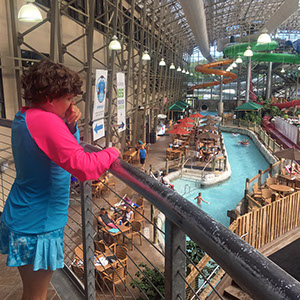 As she has gotten more comfortable, we have gotten more adventurous, though we always have to be ready for surprises. Like the first time we rode a double tube (a figure 8) down a giant waterslide, and I quickly learned to cradle her between my feet to prevent her from falling through her tube. Like how I quickly learned that, on a big slide with a deep pool at the bottom, you better have a second person ride down first to catch her as she shoots out like a cannon ball! And then there was the first time Margot rode one of those slides that was a enclosed tube... and got stuck. After a couple of heart-stopping seconds, I spotted the dark shape in the translucent tube (she had cautiously slowed her descent by pressing her hands against the side). So I had her nanny come out behind her, popping her out like a giant spitball. And Margot also just loves to wander through the children's section, wading through the shallow water and playing in the waterspouts. More and more municipal parks include these kinds of features, making these other possible destinations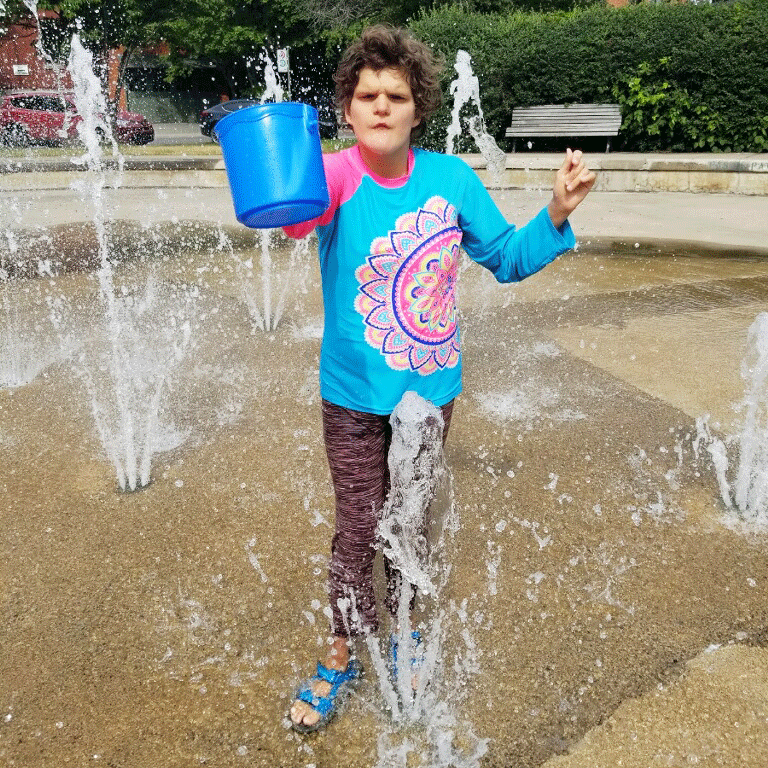 A bonus is discovering how accommodating many waterparks are. Some allow children like Margot to jump to the front of the line of a big slide. This past summer, I loved watching how quickly the teen-aged lifeguards monitoring the smaller slides proudly learn to offer a helping hand. I would quickly instruct the lifeguard to direct Margot to the slide once I have reached the bottom. Then I give Margot the signal to wait (a signal we taught her at school), and I pop on the slide. The first time, the lifeguards look briefly terrified, but they quickly see that Margot knows the routine. And then they see how much Margot enjoys it, and how Margot lets herself go a bit faster each time. One lifeguard picked up on my Wait signal, and used it to great effect!
The amusement park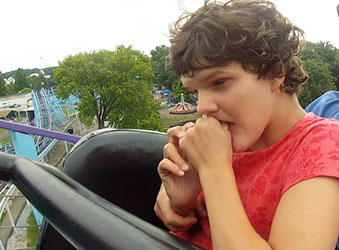 We began exploring amusement parks several years ago, and described our first roller coaster ride in another blog with an accompanying youtube video. Some accommodations really help (like allowing children like Margot to jump to the front of the line, or stay on the ride for a second go-around). Amusement parks can take more planning because of the inescapable crowds and heat, even in those parks designed for young children. The waterparks sometimes found in these parks can offer a reprieve, at least from the latter. We have sometimes use our RV to provide a break, and stretch our total time on rides to 2 1/2 or 3 hours.
The campground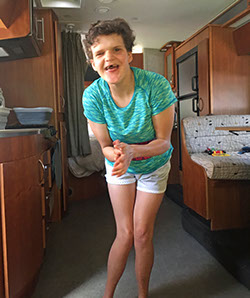 Last summer, we tried camping for the first time. No, not in a tent, for reasons too many to list , but in a small RV (more on our RV elsewhere). While we initially went with an RV to help with travel, we learned that campgrounds can themselves be a destination. Many campgrounds offering different places to play (on playgrounds, beaches, and trails) or to just an opportunity to chill under the trees at the beginning or the end of the day. Margot's beach chair and mat do double duty here, giving her an easy way to hang out without getting too dirty.
Exciting activities
It is possible to build a vacation just around exciting places to visit, but we find that other specific activities are key to filling in the day. The best are activities that you can do without getting in the car - i.e., that are on-site or within walking or biking distance. How these activities cluster ultimately determines our destinations.
Swimming
What is summer without swimming! Most destinations we aim for have some opportunity to play in the water; a beach, a pool, a hot tub.... This past summer, we found a city park with small fountains where kids could play. Dealing with overly sunny weather (with rashguards) or overly cool weather (with a neoprene layer) helps to keep everyone comfortable.
Kayaking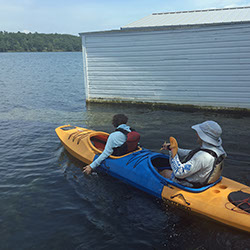 We began kayaking several years ago. A youtube video shows Margot and I on the St Lawrence River while another blog describes the extra planning that kayaking requires. Kayaking is something best experimented with first at home before trying it on the road. For now, we have elected to bring our own kayak along on our travels. When less familiar surroundings can make getting in and out of the kayak tricky, or create other conditions we are unused to (like the stronger winds that can blow across a big lake), we at least have a kayak we are familiar with. Margot becomes excited once she spots our impossible-to-miss kayak being hauled to the water, which makes her more comfortable with the less familiar conditions. Attaching a kayak to an RV took a lot of trial and error.
Walking and hiking
Biking is our go-to activity on the road or at our destination. In a separate article for the Rails to Trails conservancy, I describe some of the planning that goes into our biking trips. I always research the trails on TrailLink before I go. A trail is one great way to break up a long day's drive, while cities with great bike networks (like Montreal) can become a great destination. We bring our own bikes, which makes it easier.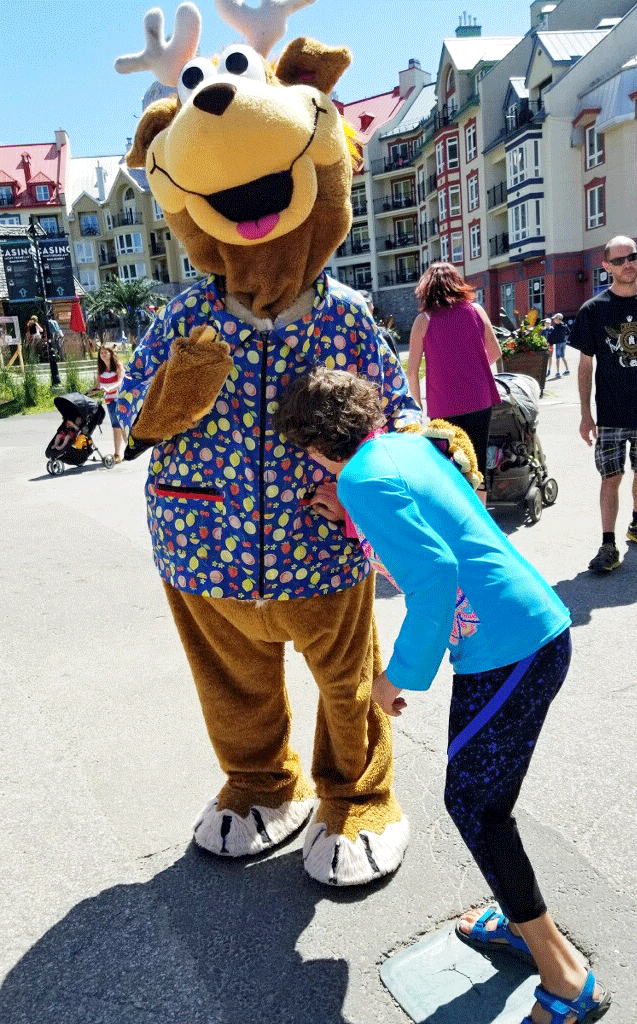 Margot has always walks alot on our vacations. Like the queen that she is, Margot will always prefer traveling in style in her royal Wike-carriage, but she is happy to walk if she knows she is going to a favorite spot. Whenever possible, we choose accommodations that have these walks built-in. In Montreal, for example, we have chosen an AirBnB that requires a walk across a favorite park to visit her favorite grandma (though, more often than not, grandma is so eager to see Margot that we find her waiting on our stoop as we step out the door!). Our very successful trip to the village of Mont-Tremblant in 2019 gave Margot a chance to greet the town's mascot on her morning walk (right).
In 2020, Margot began truly hiking in more interest, spurred on by our need to expand her activities during the CoVid lockdown. This lead to the development of guidelines to help others hit the trails. These hikes are longer than the walks she enjoyed previously (sometimes closer to 3 miles over 90 minutes to 2 hours) and so are specific outings in and of themselves. These guidelines are designed to build a hiker's capacity for longer and more difficult hikes using a carefully curated local trail guide. Planning a hike on unknown trails requires a more experienced and adventurous hiker and partner . Fortunately, we had had enough practice prior to this past summer to feel comfortable taking on new and more challenging hikes. The highlight this past summer was our first paddle-hike... kayak into a state park, land on a beach, and hike 2 miles back to our starting point, over some unexpectedly challenging terrain.
​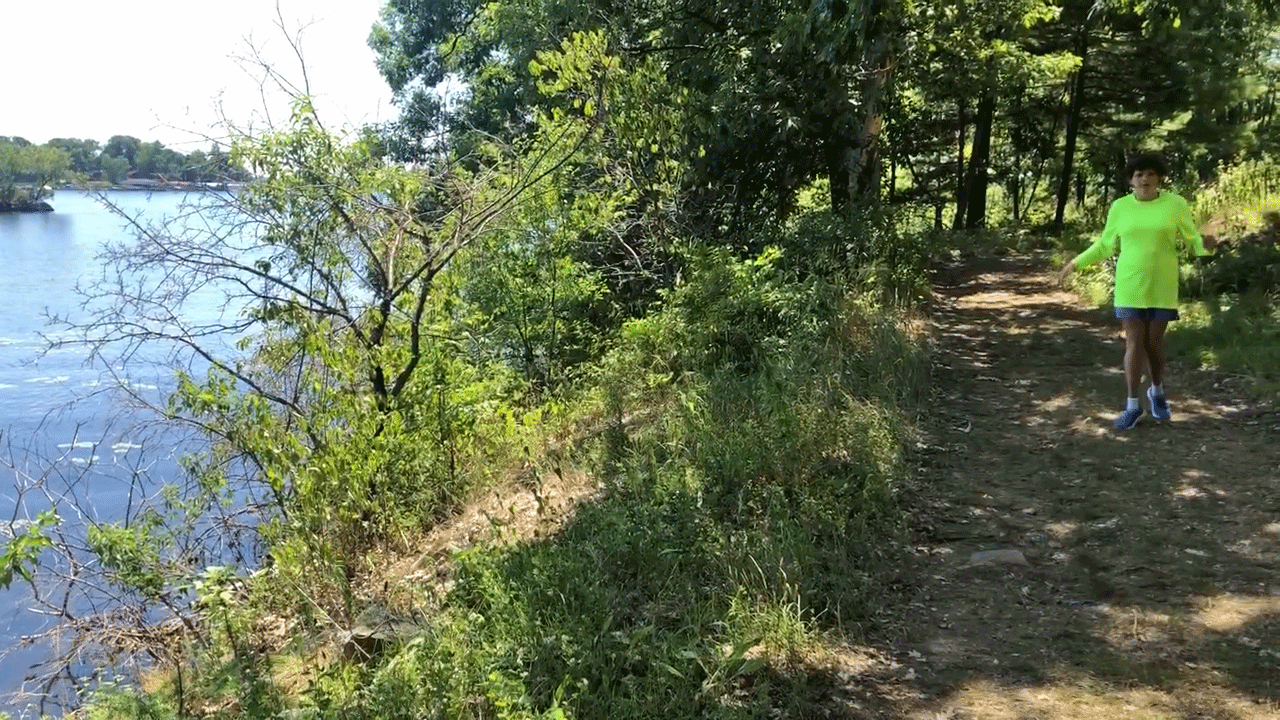 Margot finishing her kayak with a walk back to the starting point
Boating
In 2019, good friends invited Margot to come with us on a family outing in a pleasure boat to a beautiful island in the St Lawrence River for a picnic. Despite the best of intentions, the experience on this boat fell a bit short of the moniker. Perhaps this boat was a bit too too noisy or too crowded, or its destination too mysterious to be truly pleasurable for Margot.
I think it started to change this past summer. I spotted a large, inflatable "Big Mabel" raft that I had had my eye on, as something I imagined Margot and I might safely hold on to while towed behind a speedboat. I mentioned this in passing to these same good friends, and their immediate response was "I know where we can borrow one - when do we leave?".
And so Margot met Big Mabel (see below), and discovered that boating is not just pleasurable, but downright exciting! I still have to work on my approach; I think the spray combined with my iron grip on Margot's bus harness whenever we caught some air crossing the wake at speed might have been a bit over-stimulating. But once safely back on board, lounging in the bow of the boat, she laughed and smiled the whole way home. So a strategy worth working on for next summer.
​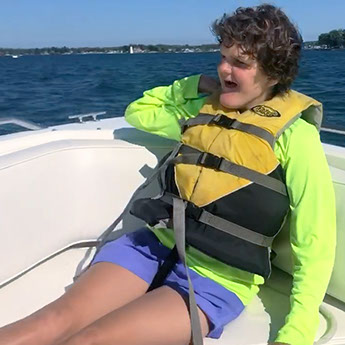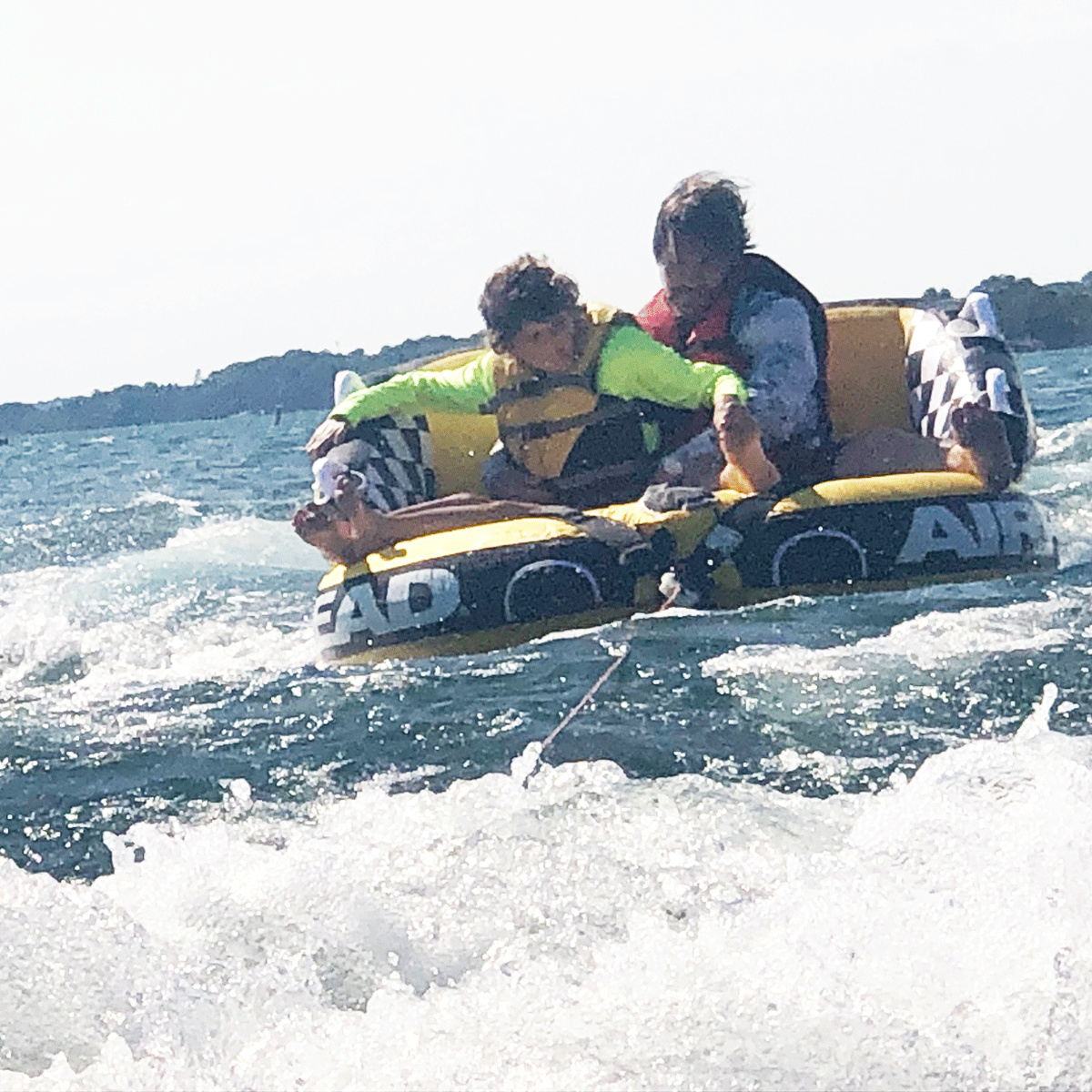 Other activities
And then there are the one-of-a kind activities you might stumble upon. Here are two we discovered on our trip to Mont-Tremblant, the cherry on the sundae of our big summer vacation
Exciting people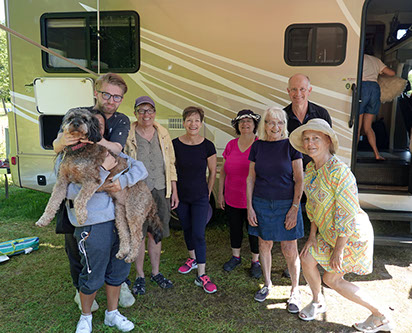 Vacations always offer great opportunities for us to re-connect with friends and family. And for Margot, this can also be a great opportunity for her to make a first connection. The more traditional ways that adults get together - at a restaurant or around a dinner table - just do not work for her. In this picture, you can see Margot's reaction to just one part of a traditional family gathering - the group photo. Margot immediately exits stage left, back into the RV, favorite pillow in hand, right on cue!!
But Margot is very happy to have someone else join us on an adventure. In the past two summers, we have biked, hiked, and kayaked with friends and family, many of whom are meeting Margot for the first time. Together, we have hit the beach, the pool, and the waterpark. Each time, they have gotten to see Margot at her best, and share in her enjoyment. And sometimes we just end up hanging out on a porch or in a backyard. That works too, as Margot wanders in and out, signaling acceptance of our guests with a silly face or a friendly swing of her pillow!
Exciting destinations
As we began to identify different adventures that Margot enjoyed, we began to use these to identify exciting destinations. These destinations are all within 1 or 2 (long) day's drive, are not too crowded, and provide access to some of the activities listed above either on site or within a short drive. Our favorites include Thousand Island Park (NY), Lewes (DE), and Montreal (QC). These all offer some combination of swimming, biking, kayaking, and hiking, all in a beautiful setting that is neither too crowded nor too expensive. Each year, our goal is to explore a new place to add to this list. This year, we were delighted to be able to add Mont-Tremblant to this list. In the summer, the ski resort has great biking, kayaking, trails, and swimming on site or close by. Margot was also excited on the cabriolet, entranced with the village, and intrigued by the Eurobungee.
And it has since proved to be a great winter destination! Mont-Tremblant's adaptive ski program, combined with fate tire biking, finished off with an outdoor hot tub or indoor waterpark proved to be a great combination.