Margot's first summer roadtrip in 2019!
Add trusted travel routines to exciting adventures and destinations and you have a roadtrip!
September 14, 2019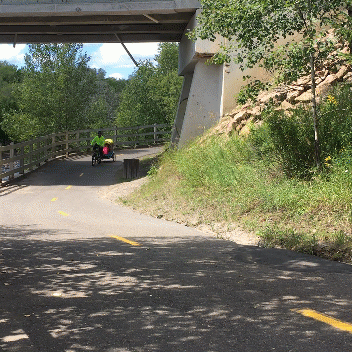 As we had gotten more comfortable with our summer travel routines and more adventurous with each new success, we began to consider other destinations that required more travel. With our first travel van broken in, we made our first trip with Margot to my home town of Montreal in 2014. It gave us a chance to kayak together in the river I once fished in as a child, and to visit my aging parents who were finding it increasingly difficult to travel.
But this also revealed limits to how far we could comfortably drive in a day: a one week vacation that entails 2 days in the car each way wasn't really a vacation, no matter how many tricks we had up our sleeve! There were lots of issues... Margot was getting big, creating challenges whenever she had to be fed or use the porta-potti in our van. And when we tried stretching our drives into the evening, Margot never really fell asleep, threatening our precious bedtime routine. And on and on and on...
Travel vehicles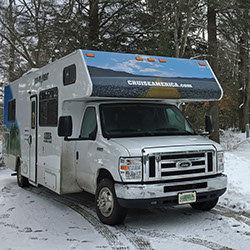 Time to scheme again: how would Margot do in a small RV? I saw small-ish RV's (25 foot Class C) with three sleeping areas, one closed off with a curtain. So last spring I rented one for a weekend. I played it smart by only venturing 2 hours into the Poconos. Less smart was my decision to try camping overnight in a state park (best to avoid driving an RV for the first time during a blizzard). But Margot slept very well. And the onboard bathroom and kitchen made self-care a breeze.
This began our search for a used RV. We found one that suited our needs (a 10 year old Fleetwood Pulse 24D), in time to try some different travel options last summer that included driving at night. Margot took to it immediately! Soon after we pulled out of our driveway at 6pm, we brought her to her bed. She climbed in amongst the pillows and blankets we had brought from home, and soon was asleep. Part 2 of the plan also worked like a charm: instead of struggling to find a 4 bedroom AirBnB for an overnight break, we easily found a 1 bedroom carriage house, and just pulled the RV up and plugged in - we did not even have to wake Margot up! The 4 hour drive that remained the next day was much more manageable easier because we had knocked out 3 1/2 hours the night before.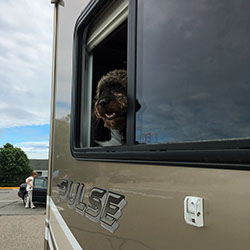 There were other advantages to traveling this way. It made it easier to bring everything we needed, especially Margot's food. And the ability to bring other food for us, and prepare and eat it comfortably as needed, made for fewer and shorter stops (and healthier eating!). With the extra room, everyone traveled more comfortably (Margot will pinch whoever is near her when she is bored on a long trip). One bonus is that our RV makes a campsite an option, which we have done to break up overnight trips and as a destination in and of itself. A second bonus? Everyone now fights to doze on the back bed while we drive. And now we can bring our dog Cooper on more trips, since many AirBnBs do not allow pets (no matter how cute they are!)
But before you get too excited, however, be prepared for other challenges. RVs are complex to maintain even for the experienced DIYer (and despite excellent online problem-solving RV forums). Good repair shops are difficult to find, and are never cheap. RVs take practice to drive comfortably: you have to monitor height restrictions carefully once you are off the interstate, and might as well forget about driving in most downtowns. Be prepared to rent a car once you reach your destination, unless you want to drive the whale everywhere. In theory, we can sleep 5 in three different beds in our RV, but that does not give alot of privacy, so I set up a separate tent for myself on camping trips. And did I say that RV's are expensive to buy AND to maintain AND to store?
Travel days
With new vehicle options, adventures and destinations, paired with a trusted travel routine, we were ready for longer drives. But the greater comfort and flexibility now also make a roadtrip vacation possible. By roadtrip, I mean a vacation with multiple destinations over a 1-2 week period. Of course, you can make any roadtrip with any vehicle, but the cumulative stress of traveling won't make it much of a vacation, even for the most adept problem-solver.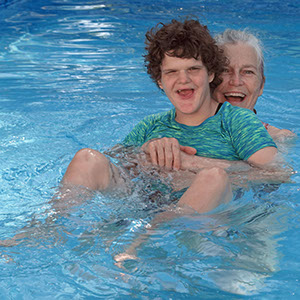 Some of the other ways an RV can help with a roadtrip?
I can stretch out each leg in a day's travel, driving for 3 hours before we need to take a break (and longer if Margot is already asleep).
Breaks themselves are more comfortable: if we stop in a park for a bike ride or a beach break, someone (i.e., teenagers who just want to be on their own!) always has the option of just hanging out in the RV. As the sole driver, I can use this time to take a short nap in the back.
Our RV also serves double duty as guest accommodations! Once at our destination, we park the RV at a nearby campsite, where friends or family can sleep while they visit us.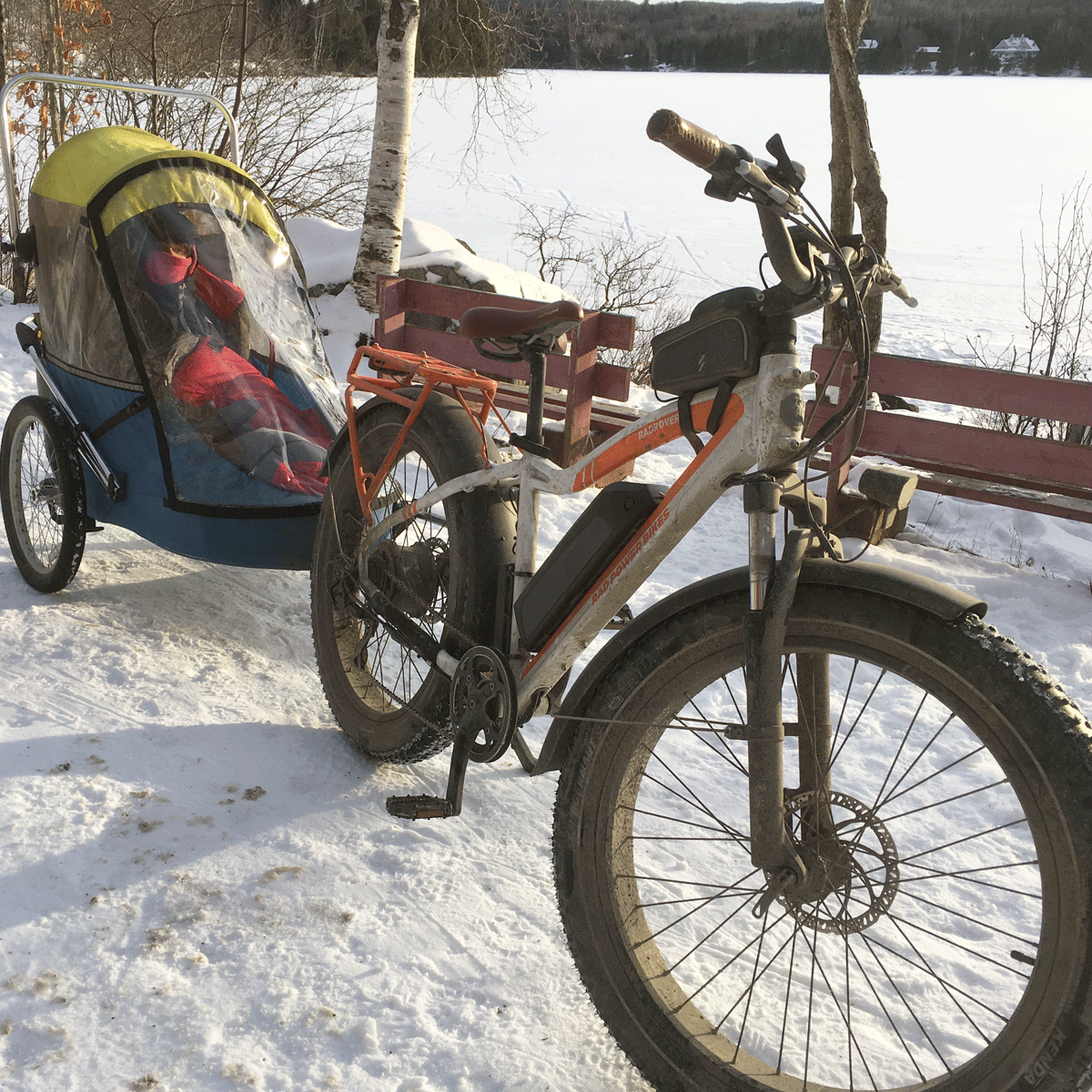 In 2019, we kept our roadtrip relatively compact - 1200 miles over 8 days, staying in 4 different places along the way. This past winter, we created a winter holiday road trip... 1400 miles over 14 days, 3 ski resorts and adaptive ski programs, and 5 different places. And we added a new activity to our repertoire - fat tire biking in the snow, on one trip weathering 10 degrees below zero!!
The logo is adapted from Joaquim Alves Gaspar's drawing of Pedro Reinel's compass rose.