There was really only one decision possible for Margot, but that did not make it any easier. There is a moment in the proceeding when the presiding judge (in Margot's case, of the quaintly-named "Orphan's Court") declares that your child is now under the care - is a ward of - the state. Then the judge pivots to evaluate your fitness to act as legal guardian for your own offspring. The next ten minutes felt like an hour, until we were finally awarded guardianship. The judge handled us with the grace and care of a doctor delivering a baby, with his formal black robes and austere courtroom providing a jarring contrast (he confided afterwards that he had a brother with significant I/DD). At this moment, few parents will think about voting. but they might later.
What is clear
The good news is that 11 states that do not disenfranchise those under guardianship - Colorado, Idaho, Illinois, Indiana, Kansas, Maine, Michigan, New Hampshire, North Carolina, Vermont, and our own state of Pennsylvania. And all states otherwise treat the individual's right to vote as sacred, and so devote considerable resources striving to make voting as simple as possible. But a simple government process is an oxymoron, so lets use the example of Pennsylvania to track the 3 distinct steps for new voters: Registering to Vote, Requesting an Absentee ballot, Completing and Returning your Absentee Ballot
You are permitted to help complete every step of the process on behalf of your voter. Pennsylvania law recognizes that some voters may need assistance - - sometimes a lot of assistance - to vote. Anyone is permitted to offer assistance to any voter who needs help, and so there is no barrier to a legal guardian offering assistance to the person they are responsible for.
The only time your voter must put pen to paper is to provide a signature. Even then, an X will suffice as a signature, and you can provide hand over hand assistance to help your voter to make that mark. BUT it is important to recognize that election officials may compare the mark provided at any stage of this process with the mark provided when you originally helped your voter to register. So it is a good idea to take a picture of that first mark, so that you can make subsequent marks match.
​

And you will have to indicate on each form when you have helped your voter.
Step 1: Register your voter. In Pennsylvania, you can register to vote online. You can also register to vote in person at your county election office. For the upcoming November 3rd presidential election, you must register to vote by October 19th.
Step 2: Request an Absentee Ballot. Unless there is something about in-person voting that you want your voter to experience, you should plan on voting by absentee ballot so that your voter does not have to go to the polls on election day. You can apply for an absentee ballot online, but chances are you will not be able to complete the application online (a driver's license number is needed to complete all of the steps online - see below). So you will either have to download and print a paper application, or request that one be mailed to you. Then you will have to mail the completed application back to your county board of elections. You can also apply in person at your county election office. For the upcoming November 3rd presidential election, a request for an absentee ballot must be received at the county elections office by 5pm on October 27th.
​

You will have to request an absentee ballot every time you want to vote in an election. If there are two elections in a calendar year, you can have the request for an absentee ballot sent to you automatically for the second election by completing Section C on the 2nd page of the Absentee Ballot Application.
Step 3: Help your voter to complete and mail in their ballot. Check back in as the election approaches for more information about this step.
You can track the process and get confirmation at each stage. For example, you can request to receive an email notification that:
- Your application for an absentee ballot was received
- Your application for an absentee ballot was approved
- Your ballot was mailed to you
- Your ballot was received
And you can also track each of these steps online in Pennsylvania.
​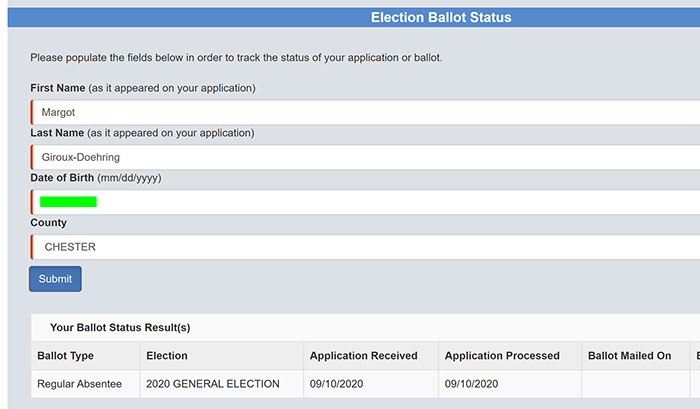 What is confusing
Forms repeatedly reference physical disability, though this is understood to include I/DD. For example, absentee ballot applications require that the applicant confirm that they are prevented from voting in person because of a physical disability (see below). And then provide additional confirmation in Section B. In both cases, you can base your request for an absentee ballot on your voter's developmental disability.
​

​

The application deadlines can lead your vote to be received too late to be counted. These deadlines might have been realistic before the pandemic had increased the number of people voting by mail, and before concerns about the capacity of the USPS to process mail rapidly. But following the deadlines now could easily lead to your ballot not being counted. Fortunately, the solution is easy: complete each step as quickly as possible!